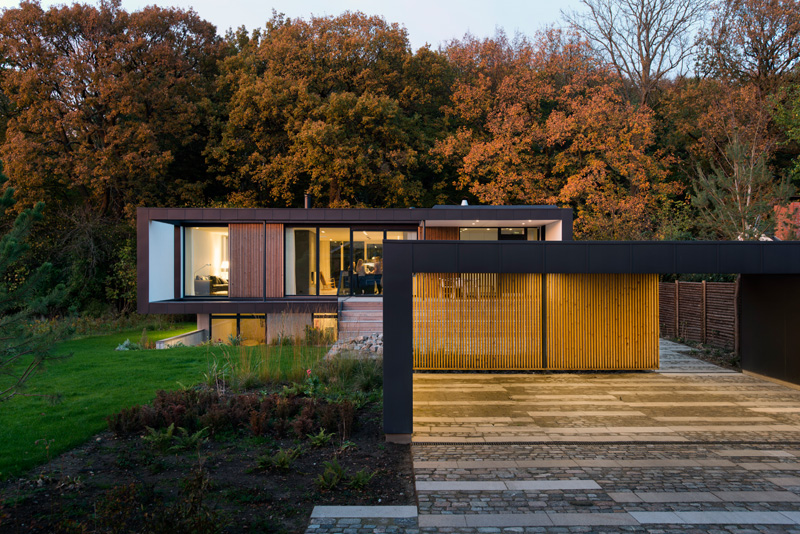 Usually, having a house design in a border area is escapable. Moreover, if you have little kids, it could be even more dangerous. However, sometimes you also dream about having a fresh house environment with trees surrounding. If it the case, then you should lean on Denmark's kid-friendly house design in forest fringe area by C.F. Moller.
Once you look in glance to this design, it seems like inviting such refreshing air straightly from the forest into the interior. It is true that the house promises you to have an open design with tall gorgeous window designed from floor to ceiling. Further, you are also be pampered with the skylight scene once you enter the house. Just in line with the name, this house design is really stacked in the edge of a forest in Aarhus, Denmark. However, it is still safe for you to bring your kids over in this area. Therefore, you should look into it deeper for more information.
Established in a quite large area, this house welcome the guests with amazing green view of the forest right at the back of the design. Further, the sculpture enclosure really wants to warm the guests' first impression with its artistic deck outlook. Moreover, the boxy style attached to this kids-friendly house design tries to allow you enjoying the skylight right from the interior. Rustic stairs installed in the entrance would be the best welcoming design with the transparent enclosure. Stony yard decoration applied to its surrounding gives your child enough border to not cross it to the forest. In addition, this design is also sophisticated with the black white deck combination attached to the exterior. Making it into a two stories style would be good to fill the underground area for safer space for your kids. What do you think to have this challenging design?